July 26 – 8th Annual Jeremy "Jake" Dickman Memorial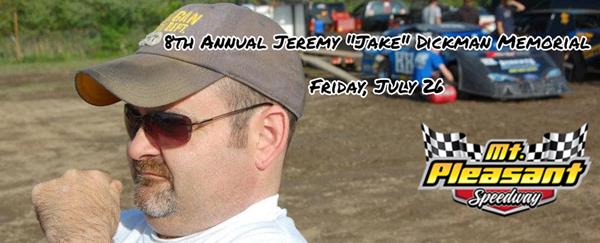 Join us Friday, July 26 for a full show featuring the 8th Annual Jeremy "Jake" Dickman Memorial.
Please note, mini wedge heats at 7 pm sharp. Also the B-Mod make up feature will run directly after this.
We will have B-Mods, Pro Stocks, Hobby Stocks, 4 Cylinders and Mini Wedge in action. 1st place trophies awarded. 1st, 2nd and 3rd place trophies awarded for Mini Wedge.
B-Mods

800

500

300

250

200

175

110

100 to start
4 Cylinder

200

125

110

75

75

75

75

75

75

75

75

50 to start
Pro Stocks

575

400

300

200

170

150

140

110

100 to start
Hobby Stock

475

300

225

200

170

150

100

75 to start
Main Grandstand Tickets:

Adults: $12; Sr. Citizens (65+): $10; Kids (6-10): $6; Children 5 and under free; College students with ID: $10

Family Pass 2 adults and 2 kids: $28
Gates Open: 5 p.m. * Races Begin: 7:45 p.m.
Jeremy Dickman had a passion for dirt track racing and Mt. Pleasant Speedway. He ran the Mt. Pleasant Speedway website and worked on getting sponsorship for the track. Moreover Dickman was the founder and President of Y4 Motorsports Marketing which promoted and helped get sponsorship for drivers and their respective teams. Dickman also covered the events at Mt. Pleasant Speedway weekly for the Morning Sun.
In 2012 after his death, Dickman was honored at the 29th annual Michigan Motor Sports Hall of Fame induction ceremony. He became the fourth recipient of the Dick Beebe Memorial Award (for his contributions to motor sports).
Over the years Dickman also became the Executive Director of 'Cans from Race Fans,' a non-profit organization that aimed at combating hunger in the mid-Michigan area.