August 3 - Dick Crook Birthday Celebration PLUS $6 General Admission!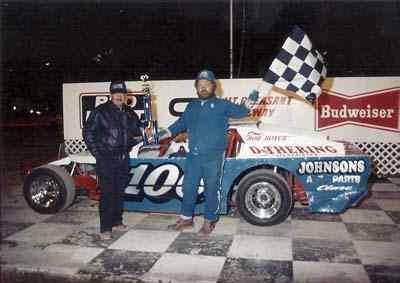 Join us this Friday, August 3 for the Dick Crook Birthday Celebration and a full show of B-Mods, Hobby Stocks, 4 Cylinders, and Mini Wedges. Take advantage of the $6 general admission! Kids 5 and under still free.
The first 60 kids through the gate will receive a free gift bag thanks to the Wright Family.
Mt. Pleasant Speedway will honor a man who nurtured the track for 18 years. Dick and Betty Crook owned and operated the Mt. Pleasant Speedway together for 18 years until Dick passed away at the age of 55 on September 24, 2004. Betty and Mario took over keeping Dick's dream alive. Dick started racing at 17-years-old. Early on in his driving career he raced for Bill Wilkie and then for Ed Johnson. He eventually bought and raced his own cars all over the state of Michigan. Dick and son Mario shared a Modified towards the end of Dick's racing career. Mario drove it Friday nights at Mt. Pleasant Speedway and Dick drove it Saturday nights at Merritt.
Hobby Stocks $700 to win $100 to start, B-Mods $1000 to win, 4 cyl $150 to win, and Mini Wedge top 3 in each division will receive trophies.
John Taylor of Sweet Grafix will give the winner of the B-Mod class a race wrap for the 2019 season and a rear curtain valued at $850.00.
Mt. Pleasant Speedway would like to thank Krapohl Ford, Excessive Customs & Collision, Mt. Pleasant Express, All American Glass, Jon Danials-pac- Shepherd, Mitchells Gourmet and Deli-Shepherd, Powell's Frame and Collision-Shepherd, Eight Two Eight Rental Hall-Shepherd, Barn Door and Mt. Pleasant/ Clare Automotive for all contributing to this Friday's Dick Crook Birthday Celebration Race.
Mt. Pleasant Speedway also wants to thank Mt. Pleasant Automotive/Clare Automotive and the Anderson family for donating two brand new Predator Mini Wedge engines to be given away Aug 3rd.
Thank you for supporting Mt. Pleasant Speedway!