2nd Annual Tommie Bauer UMP Mod Special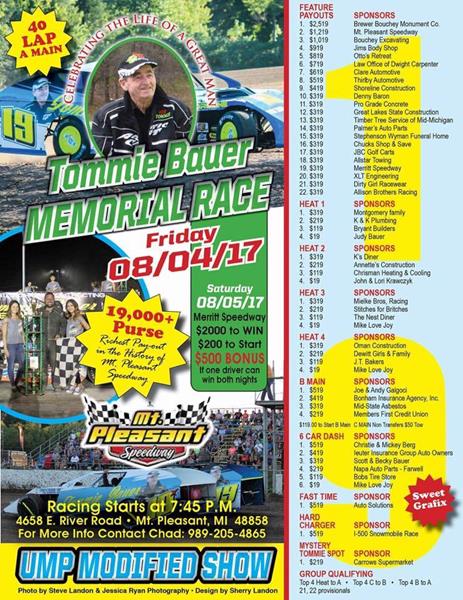 For UMP modified drivers: Finish Line Timing and Scoring will be doing the scoring for the UMP modified portion of this Friday's show. Westhold Rechargeable transponders will be mandatory. The green ones will not work for this show. Rentals will be available for $10 per transponder.
B-Mod (IMCA) Mods: August 4, $1000 Win $100 Start / Hard Charger $650 2018 wrap thanks to John Taylor of Sweet Grafix.
Time of events for 2nd Annual Tommie Bauer Memorial for Friday Aug 4th: Gates open at 4 pm. Ump Mods registration goes until 6:30 pm. If you are running late, please just call. Qualifying starts at 7 pm. B- Mods, 4 cyl., and Mini Wedge Karts will have pill draw. Pill draw will end at 7 pm.
Merritt Speedway will be offering a $500 bonus to the winner of the Tommie Bauer Memorial to come and win at Merritt the next night Aug 5th. They will also be putting up very nice purse money. Please check these flyers out.
UMP Mod and B-Mod drivers: Aug 4th, UMP Mod drivers must show UMP license to draw. There will be no running both classes with same car. If you have 2 cars, a B-Mod and UMP Mod, and have UMP license you can run both shows by paying for a pit pass for both cars.
Attention all parents and kids: There will be multiple bikes given away this Friday Aug 4th at the 2nd Annual Tommie Bauer Memorial UMP Mod Special. Bikes ranging from tricycles to mountain bikes. Once again these bike giveaways would not be possible without the Bauer Family and sponsors that have stepped up.
(No Hobbys/No Lates)